King of Kings award from IFMCA. The International Film Music Critics Association has awarded the Tadlow King of Kings recording for Best Archival Release, Rerelease or Rerecording. KING OF KINGS with music by Miklós Rózsa; the City of Prague Philharmonic Orchestra and Chorus conducted by Nic Raine; album produced by James Fitzpatrick; liner notes by Frank K. DeWald and James Fitzpatrick; album art direction by Nic Finch, Gareth Bevan, and James Fitzpatrick (Tadlow Music). View awards here

A Clarinet in America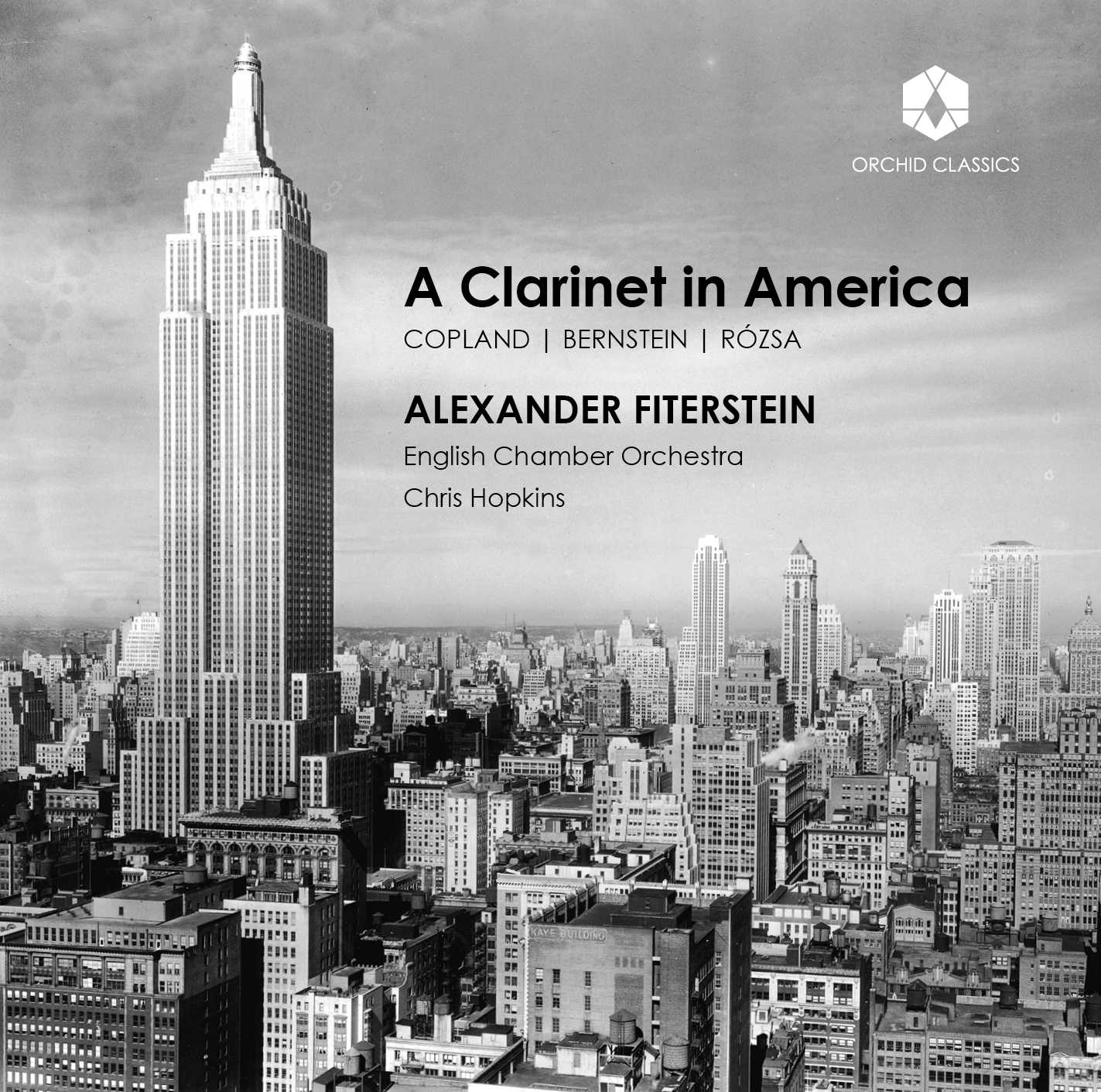 New Cd for release in February. Copland, Bernstein, Rozsa. Label: Orchid Classics. Expected Release Date: 12th February 2021. Alexander Fiterstein (clarinet). English Chamber Orchestra. Chris Hopkins-Conductor. Miklos Rozsa, Sonatina for solo clarinet, op.27. Also Bernstein Clarinet Sonata. Copland Clarinet Concerto and Clarinet Sonata. Jan 12 2021
King of Kings general release. An announcement has been made for the general release of the newly recorded score from 6 Dec 2020.
The result of a kickstarter campaign which culminated in this recording which up till now has only been available to contributors. A useful online review and rundown on the CD tracks has been made available on the Movie Music UK site Dec 1 2020
King of Kings "arrives" The first CDs have arrived at the addresses of contributors to the successful crowdfunding project which resulted in the ultimate recording of the long awaited score composed when Rózsa was at the peak of his film music career. Fraught with delays the final result wil be welcomed by Rózsa fans and music lovers. First comments are positive. Doug Raynes describes it as "a magnificent recording both in terms of performance and sound quality. Arguably the most authoritative interpretation of Rozsa's music out of all the previous Tadlow recordings." General distribution is expected in September.7 Aug 2020
King of Kings "very close" Recent posts by James Fitzpatrick indicate distribution of CDs will begin in July for contributors to the production and orders likely to be filled in September. "Should be able to start posting out pre ordered CDs etc.. throughout July ... but post taking a bit longer at the moment because of the virus...especially overseas post. So normal release will be in September ..." June 26 2020
Concert havoc The continued world pandemic has ensured the cancellation of numerous Rozsa concerts and an uncertain future of orchestras and their financial support. A number of them have resorted to streaming online live or restreaming past concerts. Some of these remain online and can still be heard. The Rozsa Forum and The Rozsa facebook pages have been recieving links to these performances. Links will be listed here as they become available..
Ars Aurea Sonora
Providence June 2020
New CD. Concerto for strings, Op. 17
The Erdody Chamber Orchestra - Erdody Kamarazenekar. Zsolt Szefcsik /leader/ plays the Rózsa concerto which takes up about 24 minutes of the recording. Other works are by Kilar, Laks, and Orban. In 1994, Zsolt Szefcsik founded the Erdody Chamber Orchestra in Budapest to promote the Hungarian musical heritage and present achievements of contemporary composers. Over 25 years, the ensemble, using Hungarian manuscript collections, has presented over one hundred forgotten pieces. Thanks to this fact, it has become an orchestra with currently the most extensive repertoire of Hungarian music. Also available from UK distributor Feb 2020
Another Cello CD with OP.36
Notice from Cellist Brinton Smith; A new Naxos disc is being released in March. It is titled Exiles in Paradise; emigre composers in Hollywood. The program for the CD is perfomed by the same couple who recorded the Rozsa CD for Koch in 1998. See here CD contents as follows
Leopold Godowsky (Heifetz) Alt Wien (Triakontameron No.11)
Sergei Rachmaninoff (Smith) Serenade Op.3, No. 5
Igor Stravinsky (Dushkin) Berceuse
Arnold Schoenberg Saget mir auf welchem Pfade op. 15, No.5
Joseph Achron Stimmungen ??.32 ?1
Louis Gruenberg Jazzette #3 (1924)
Ernst Toch Three Impromptus for Cello Solo, Op. 90C
Mario Castelnuovo-Tedesco I Nottambuli, Op. 47
Miklós Rózsa Toccata capricciosa, Op.36
Erich Wolfgang Korngold Four Pieces from Much Ado About Nothing, Op.11
Franz Waxman Carmen Fantasie
George Gershwin (Heifetz) It Ain't Necessarily So, from Porgy and Bess
Listen to the Rózsa on the CD ( in lower fidelity) Feb 2020
New Cello CD with OP.36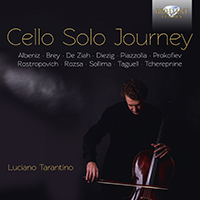 The Italian cellist Luciano Tarantino who has in his repertoire the Toccata Capricciosa by Rozsa, has made a CD titled 'CELLO SOLO JOURNEY' which features various works for cello including Rózsa's op. 36. The CD will be available in July. A voyage across a century of solo cello repertoire from Europe and America. More detailed information is available from this site. June 8 19
King of Kings sessions. The King of Kings score has been newly recorded by Tadlow Music in the presence of some 20 Rózsa enthousiasts. Release date is not yet known. A summary of the proceedings can be found on this site under the 'Features' link on the home page.
Rózsa titles for new recording Following their successful Kickstarter campaign, Intrada have posted a poll to guage interest for future releases. These incude two Rózsa titles Jungle Book and Brute Force. To register your choices follow the link to Intrada poll
Violin Concerto on the Orfeo Label. New recording release by Baiba Skride titled American Concertos which includes her take on the Rozsa Violin Concerto Op 24. American Concertos by Bernstein, Korngold and Rózsa is due for release on 31 August. Baiba Skride plays with the Gothenburg Symphony and the Tampere Philharmonic Orchestra. Conductor is Santtu-Matias Rouvali.
Bernstein, Leonard; Serenade, West Side Story: Symphonic Dances
Korngold, Erich Wolfgang; Violin Concerto in D major, op.35
Rozsa, Miklos; Violin Concerto, op.24.
Violin Concerto and other Rózsa and Bartók. New recording now available from Violinist Christophe Boulier along with various pianists. 1, Ben-Hur Transcription for violin and piano: Régis Boulier. The transcription was made in 2016 and created at the Théâtre de Mézin on February 6, 2017 by these same performers. 2, Quo Vadis Syrian Dance, Transcription for violin and piano: Régis Boulier. Christophe BOULIER (violin) Alexander BESANT (piano). The recorded excerpt, was transcribed in 2016 and premiered at the Théâtre de Mézin on February 6, 2017 by these same performers. 3, Violin Concerto. Christophe BOULIER (violin) Philippa Neuteboom (piano) The CD is available from Boulier's site
Bernstein's New York Debut Over on the Rózsa Forum a link has been posted to the "Debut" concert conducted by Leonard Bernstein in 1943. Most will know that this was the concert which propelled Bernstein, as a young conductor, into the limelight. The recording of this concert which included Rózsa's Theme Variations and Finale had remained obscure for all these years but is now available in CD form or as a digital download from pristineclassical.com 31 May 18
1st String Quartet now arranged for String Orchestra. On May 6 2018 the Neue Jüdische Kammerphilharmonie Dresden conducted by Michael Hurshell included the world premiere of an arrangement by Mr Hurshell for String Orchestra of the Scherzo in Modo Ongarese (2nd mvt. from the 1st string quartet). The Neue Jüdische Kammerphilharmonie Dresden performed the world premiere of the string orchestra versions of the 3rd and 4th movements in early 2018 (Lento and Allegro feroce). Miklós Rózsa had already arranged the first movement as OP 22a, Andante, for string orchestra in 1992 to accompany the String Concerto on a Koch CD. The Neue Jüdische Kammerphilharmonie Dresden premiered that arrangement in 2008.The new arrangements, of the 2cnd 3rd and 4th movements, were made by the ensemble's music director, Michael Hurshell. 5/5/18
Reissue old recording Available only as a digital download. Rozsa: North Hungarian Peasant Songs and Dances, Op. 5 and The Vintner's Daughter, Op. 23a Rome Symphony Orchestra conductor Carlos Savina----- Rozsa: Hungarian Serenade, Op. 25. and Concerto for Strings, Op. 17. Frankenland State Symphony Orchestra conducted by Erich Kloss Details
New recording News of a new recording of music from Hungarian composers who fled Europe or were killed. It is unclear if it will appear in CD format but will be available on the general download sites. Titled, "The Hungarians, from Rozsa to Justus"it is played by the group 'Énsemble for These Times'. More details here. 11-03
New Belgian CD. A fairly recent release has been a recording by Duo Dames of Belgium
containing the Sonata for Two Violins. These young violinists have been performing the Sonata regularly over recent years and have now committed the Rózsa piece to CD in a fine performance along with a collection of similarly interesting pieces from various other composers. Listen to sample
Go ahead for King of Kings CD. The Kickstarter campaign, initiated by record producerJames FitzpatricK, has reached the goal of half the required funds to enable planning to go ahead for the new recording.
The balance of the funds was to be financed by James Fitzpatrick himself to the expected amount of Ł80000 in total. The success of this first Rózsa campaign opens the way to future scores being financed in this way and the preservation of fine film music from the past. The MRS thanks those who pledged an amount which made this possible and of course a special thanks to James himself. 27/12/17
Kickstarter for King of Kings CD? Further to previous communications about the possibility of a complete new recording of the King of Kings score we are thrilled to report that a kickstarter campaign has been initiated to raise the finance to enable the recording to take place. Though any pledges are possible, a rewards enticement to those who raise their pledges include attendance at the recording sessions in Prague. Full information available here. Details and pledges. 15/11/17
A New King of Kings CD?Recent comments by producer and owner of Tadlow Music give a clear intention to investigate the possibilities of recording a complete score to the 1960's epic movie 'King of Kings". Previous releases of this score which followed closely on the heels of 'Ben-Hur'have been considered to be the final word on the music by Rózsa but there has been a movement in recent years to stimulate discussion on recording the score in modern sound and techniques. Not without success it seems. James Fitzpatrick recently indicated in his discussions on Facebook that he is considering a new recording of KOK with assistance of fans who are prepared to contribute toward the recording costs. Bill Wrobel of 'Film Score Rundowns' has in the past indicated that substantial cues exist in the Zador collection which could make the new recording a more attractive proposition. Hopefully this will come to pass. 11/11/17
New Ben-Hur double CD
After nearly 60 years Ben-Hur, although always available in one form or another, has received a complete new recording by the Tadlow team which has already proved itself in the Rózsa realm with previous releases such as El Cid and Thief of Bagdad amongst others. The new recording reveals hitherto unheard detail as well as cues which were not included in the movie or were previously unrecorded. Produced and financed by James Fitzpatrick and conducted by Nic Raine the score, partly reconstructed shines through the playing of the first class City of Prague Philharmonic Orchestra.
New Cello CD
A new recording of the Toccata Capricciosa, a cello solo composition from Rózsa has been issued in Germany by the label ARS Produktion. Coming from Cellist Michael Heupel, it contains 20th and 21st century works for solo Cello, including Rozsa's "Toccata Capricciosa". Michael will be promoting his CD with a series of concerts featuring the works on this release for which further details appear on the Concerts page. CD Details 20/Jul/17
New CD of the Piano Sonata French pianist Emmanuelle Moriat, who gave the french premieres of Rozsa's sonata and Bagatelles in Paris a few years ago has recorded those pieces (with other works by Erno Dohnanyi), for the french label KDream. The Rozsa works coupled with the Suite by Dohnanyi is a most agreeable combination of works by two Hungarian masters. The Piano Sonata (Op 20) is one of Rozsa's finest concert works and this fresh interpretation will be keenly welcomed along with the new Bagatelles. Details
Commemoration Hungary Ambassador Balazs Bokor, former Consul General of Hungary in Los Angeles advises that on the occasion of the 110th anniversary of the birth of Miklós Rózsa, the Hungarian Hollywood Council will organize a memorial eventto to take place at the Cultural center of Budapest's 6th District where he was born. As President of the Hungarian Hollywood Council, he will moderate the event. Invited guests will speak about Miklós Rózsa. Mr Gergely Hubai will talk about the life and art of Rózsa. Zsolt Szefcsik, a well-known violinist, head of the Erdody Chamber Orchestra, Mr. György Lendvai, Managing Director of the MAV Symphony Orchestra (which has played Rózsa music in concert and issued Rózsa CDs on Naxos) will be joining the conversation. Hungarian state and artistic awards winner, composer and pianist, mostly in the field of jazz, Mr Béla Szakcsi Lakatos will play a special 20 minutes piece, as an improvization on Rózsa`s music. Later in April a wreath will also be laid in Nagylóc at his memorial plaque, and one can listen to a short concert of Rózsa music.
New Ben-Hur recording The BEN-HUR sessions in Prague are over. The first series of sessions covered up to the Intermission and the rest of the sessions followed on April 7 snd 8 James suggests that there will be a few surprises even to those who thought they knew the original well. This will undoubtedly generate a great deal of interest amongst Rózsa enthousiasts. "...judging by CD sales recently ..I need to record music that will appeal to a much wider spectrum and more importantly be able to licence tracks for trailers, commercials, corporate films etc..." A preliminary report on the completed sessions, by Doug Raynes, who was present at all the sessions, can be viewed under the Features link or view here 10/02/17
Rózsa conducts Rózsa Dutton/Vocalion issues a classic LP on their popular series.The RCA release, with the RCA Italiana Orchestra, recorded in the 'sixties is a welcome addition for many as this was a true highlight of early collection buying, with great recorded sound and excellent performances of four of the composer's finest concert works. Read more about this release here
Thief of Bagdad. 11 Nov 2016. from Prometheus.


See: Details and Samples
Tracklist:
CD 1:
1. Main Titles / Seaman's Song (4:12)
2. Bagdad Harbour (2:38)
3. Jaffar and the Doctor (1:11)
4. The Thief's Song* (1:00)
5. Ahmad Telling His Story / Thief Sequence (3:51)
6. The Market* (8:43)
7. Witnessing an Execution (0:58)
8. Jaffar's Advice / Bagdad Night (4:10)
9. Ahmad and Abu Imprisoned / Abu Steals the Key / Ahmad and Abu Escape (3:08)
10. "I Want to Be a Sailor" / River Scenes* (4:02)
11. The Market of Basra (2:54)
12. Horsemen's Fanfare (2:05)
13. Procession (2:00)
14. Love Song (1:37)
15. Love Scene / I Must See Her Again (5:17)
16. Waltz Song* (1:45)
17. Jaffar Arrives / The Sultan's Toys / Miniature Acrobats / The Sultan's Toys (4:38)
18. The Flying Horse (1:22)
19. The Sultan's Toys (continued) / The Curse 5:22
20. Awakening (2:49)
21. The Princess Abducted (2:13)
22. The Curse Is Lifted / The Storm and Aftermath (8:29)
23. The Princess Asks to Return / The Deserted Garden (1:47)
24. Ballad* (1:34)
77:47
CD 2:
1. The Silvermaid's Dance (3:30)
2. The Djinn (3:11)
3. The Djinn's Song* (0:55)
4. Abu Fools the Djinn / Abu's First Wish / Abu's Demands / The Flying Djinn (5:21)
5. The Skeleton Room / The Spider (6:08)
6. Theft of the Eye / Abu Uses the Eye / The Djinn Takes Abu to Ahmad (5:24)
7. Seduction and the Djinn Is Freed (4:48)
8. Palace Fight / Ahmad and the Princess, Captive / Ruby Montage (part 1) (4:12)
9. The Golden Tent (3:05)
10. The Flying Carpet / Ahmad to Be Beheaded / Arrow of Justice / Riot and the End of Jaffar (3:45)
11. Finale and End Cast (2:11)=10.0ptBONUS TRACKS
12. Seaman's Song (instrumental) (2:51)
13. The Thief's Song (instrumental)* (1:00)
14. The Market (orchestral version)* (8:37)
15. Ahmad and Abu Imprisoned (alternative version)* / The Princess Escapes* (1:37)
16. "I Want to Be a Sailor" (instrumental) (2:02)
17. The Deserted Garden (alternative version)* 0:53)
18. Love Song (instrumental) 1:37
19. Waltz Song (instrumental)* 1:45
20. The Flying Horse (alternative version)* 1:55
21. The Flying Horse (alternative version 2)* 1:42
22. The Temple* / Ruby Montage (part 2)* 2:34
23. Ballad (instrumental)* 1:31
24. The Djinn's Song (instrumental)* 0:55
25. The Love of the Princess for Violin and Orchestra*
World Premiere. Solo Violin: Lucie Svehlova (4:48)
76:35
INVITATION TO WHOM IT MAY CONCERN. THE HUNGARIAN HOLLYWOOD COUNCIL (A CIVIL ORGANIZATION -https://www.facebook.com/Magyar-Hollywood-Tanács-Hungarian…/) WILL HOLD ITS NEXT MEETING IN THE VILLAGE OF NAGYLÓC (NÓGRÁD COUNTY – HUNGARY) ON NOVEMBER 13, 2016 AT 2.00PM, AT 135 RÁKÓCZI STREET, VILLAGE CULTURAL CENTER. THE EVENT IS DEDICATED TO THREE-TIMES OSCAR WINNER COMPOSER, MIKLÓS RÓZSA WHO SPENT HIS CHILDHOOD IN THIS HUNGARIAN VILLAGE. PROGRAM OF THE EVENT:
-GREETINGS BY THE MAYOR OF NAGYLÓC
-AMBASSADOR BALÁZS BOKOR, FORMER CONSUL GENERAL OF HUNGARY IN LOS ANGELES, THE PRESIDENT OF THE HUNGARIAN HOLLYWOOD COUNCIL (HHC) DELIVERS A TALK ON THE HHC AND DEMONSTRATES A POWER POINT LECTURE ON MIKLÓS RÓZSA.
-BALÁZS BOKOR MODERATES A DISCUSSION ON MIKLÓS RÓZSA, HUNGARIAN FILM ICONS IN HOLLYWOOD, HUNGARIAN-AMERICAN FILM RELATIONS WITH THE PARTICIPATION OF MR. BÉLA BUNYIK, PRESIDENT OF THE HUNGARIAN FILM FESTIVAL OF LOS ANGELES, MR. ÁDÁM BALÁZS, FILM MUSIC COMPOSER – HOLLYWOOD/BUDAPEST, DR. LÁSZLÓ TANKA, PRESIDENT OF THE PANORAMA WORLD CLUB (A CIVIL ORGANIZATION OF HUNGARIANS LIVING AL OVER THE WORLD). -Q&A
-LAYING FLOWERS BY THE HUNGARIAN HOLLYWOOD COUNCIL AT THE MEMORIAL PLAQUE OF MIKLÓS RÓZSA ON THE WALL OF THE VILLAGE`S CULTURAL CENTER.
FREE ENTRy MORE INFORMATION AT MAGYARHOLLYWOODTANACS@GMAIL.COM 7/11/16
BluRay, Time after time Warner Archive has revealed that it will release on Blu-ray Nicholas Meyer's film Time After Time(1979), starring Malcolm McDowell, David Warner, Mary Steenburgen, Charles Cioffi, and Kent Williams. The release will be available for purchase on November 15.
Ben-Hur digital James Fitzpatrick has announced on Facebook his intention of recording the complete score to Ben-Hur in digital sound. Few details are available at this stage. James has expressed his interest in recording this score on previous occassions but until now no definite plans were made public.
Rózsa piano works Pianist Emmanuelle Moriat, who gave the french premieres of several chamber works of Miklos Rozsa in 2007, will play The Bagatelles and the Sonata in Paris in september prior to a recording in October for label Kdream Music, with the same program. Ernö Dohnŕnyi : Ruralia Hungarica op 32a. Miklos Rozsa : Bagatelles op 12 and Sonate op.20


Unveiling Nagylóc plaque




A North Hungarian small village, Nagylóc has witnessed a special ceremony of unveiling the memorial plaque of the 3-times Oscar winner Hungarian-born composer, Miklós Rózsa on June 18, 2016. The ceremonial event was organized amidst a great public interest by the Municipality of Nagylóc and the Hungaria Nostra Foundation of Los Angeles. Mayor Gabor Peter introduced the life of Miklós Rózsa who spent his childhood in this small village at his parents` estates. Listed his life achievements and talked about the three Oscar winner films` music composed by Rózsa. The President of the Foundation underlined that Rózsa had kept his Hungarianhood until the end of his life and he was proud of his Hungarian roots. It is of great importance for the village of Nagylóc that such a world-known and respected composer turned his face towards the local popular music ("paloc" music) in this very location. The memorial plaque was unvelied by the Mayor and the President of the Foundation. The plaque was blessed by the local Roman Catholic priest. Ambassador Balazs Bokor, former Hungarian Consul General in Los Angeles pointed out to the fact that there were many Hungarian-born stars in the history of Hollywood. Hungarians should be proud of them, they should keep their memories. Bokor underlined that his project, the Hungarian Hollywood Tour 2016 serves this very goal. The tour will visit the villages and towns in Northern Hungary with a Hollywood "fingerprint" . The village of Ricse where Adolph Zukor was born, Tolcsva where William Fox was born, Mátészalka where the parents of Tony Curtis came from and other places. the Tour also will come to Nagylóc on September 18, 2016 at the most important festival of the village to remember the memories of Rózsa. The official unveiling event ended with a concert from Rózsa`s compositions in the Catholic Church of the village 21-June 2016
Nagylóc memorial plaque
CEREMONIAL DEDICATION OF THE MIKLÓS RÓZSA MEMORIAL PLAQUE ON THE WALL OF THE MUNICIPAL KULTU'RHA'Z, FORMERLY THE RÓZSA FAMILY COUNTRY HOUSE IN NAGYLO'C, HUNGARY. SATURDAY, JUNE 16. The Hungaria Nostra Los Angeles Foundation has arranged to erect a memorial plaque in memory of Miklós Rózsa at nagylóc with the partcipation of invited guests including Ambassador of US and Hungarian cultural dignitaries.
3:15PM: SPEECHES BY THE MAYOR, THE HUNGARIA NOSTRA FOUNDATION OF LOS ANGELES, INC. WITH THE COLLOBORATION OF H.E. AMB. BALA'ZS BOKOR
4:00PM: RÓZSA CONCERT IN THE CHURCH
5:00PM: DEDICATION OF THE NEWLY RESTORED ROSE GARDEN THAT ONCE SURROUNDED THE RÓZSA ESTATE
6:OOPM: CLOSING EVENT WILL BE THE RECEPTION GIVEN BY HIS HONOR THE MAYOR OF NAGYLÓC.
THE ADDRESS: Nagylóc, Rákóczi út 135., 3175 Hungary AT THE LOCAL CULTURAL CENTER
The placing of the plaque has come about through the efforts of Dr. Esther Vécsey, Founder of Hungaria Nostra Foundation of Los Angeles, Inc., and the chief Sponsor, with the Nagylóc Mayor."I have labored against all odds since March, and have read a lot about dear Miklós whom I knew when we were both teaching at the College of Wooster, Ohio in the early 1980's".
Rozsa goes to war New release from intrada with excerpts from Rózsa war scores and some lesser known compositions.


Project Hungarica
Polish Violinist Szymon Krzeszowiec advises that he is very happy to present his new title which includes violin music by Miklós Rózsa. The CD called PROJECT HUNGARICA contains works by Rózsa and Kodály and is published by Polish label CD Accord, ACD 226. The album will be out on the 15th of April in Poland and in May 2016 in the rest of the world (Naxos distribution).
CD repertoire contains : Miklos Rozsa -
1. Sonata for Solo Violin Op. 40 (Szymon Krzeszowiec - violin)
2. Sonata for Two Violins Op. 15a (Bartlomiej Niziol, Szymon Krzeszowiec - violins)
plus
3. Zoltan Kodály - Duo Op.7 (Szymon Krzeszowiec -violin, Adam Krzeszowiec - cello)
Click image for more info and purchase link.
New recording Coming soon The most recent progress to the realization of the new Thief of Bagdad recording include the actual recording sessions which took place from 25th to 28th March and a begin on the mixing process by James Fitzpatrick from Tadlow music. James has described these sessions as amongst the most exciting of his career. Indications are that there will be two CDs of music including previously unrecorded cues and a release in autumn has been mentioned. 8 April 16


Golden Voyage ofSinbad. New CD From Frank K Dewald; It's now official:
This new release features the LP program from the original album masters, as well as the entire score in stereo (A few fragments may have only survived in mono, but they are minimal in number -- more detail in the booklet). Doug Fake put a great deal into making this sound as good as possible, and Joe Sikoryak has designed a beautiful booklet (with the original LP cover!). The sound is better than ever -- although they couldn't do anything about the orchestra. Another Rozsa celebration from Intrada!
Unfortunately, Rozsa's orchestral dance for Kali was either never recorded or at least didn't survive among the other materials, so don't look for that here.But otherwise it's complete. Hope everyone enjoys and supports this Intrada effort. See track list and listen to samples here
The Thief Of Bagdad. New CD Again, to the delight of Rózsa fans and followers of film music' is the prospect of a recording of the complete score to 'The Thief Of Bagdad'. Mr Fitzpatrick from the Tadlow label has declared his intention to record the full score in March. No indication has been given as to a release date.
2 CD Epic Rózsa. James Fitzpatrick of Tadlow Music has produced a double CD of the September 2015 concert in Prague in which the City of Prague Philharmonic Orchestra conducted by Nic Raine brought some of the finest epic music from Rózsa's career to life. Persons who attended the concert gave glowing reports on the playing and the selection. The concert is presented on two CDs and available from Tadlow on it's release in February. More background info at The Forum
Noir Rózsa from Intrada Thirty nine minutes from the soundtrack of Double indemnity is presented on the two CD set of Film Noir music from Paramount by various leading composers of the period. Details of the release can be viewed by clicking on the icon. 08/12/15

More Rózsa from Tadlow James Fitzpatrick has confirmed on the Rózsa Forum that he is preparing a double CD issue of the September Prague Concert of epic Rózsa film music and further declared his intention to record a complete 'Thief of Bagdad' next spring. Details of the concert can be found below or on the Features link. 11/11/15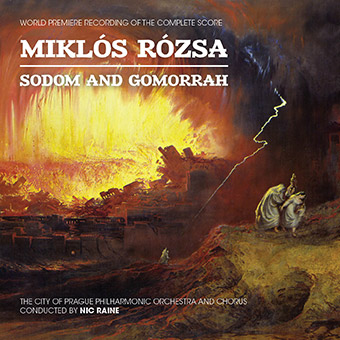 Sodom and Gomorrah CD. After more than 50 years since the movie was released a full score CD has been recorded by the City of Prague Philharmonic Orchestra. Though the film was not regarded very highly, Rózsa stated that it was a gigantic effort and a case of sinking with the ship. Previously the music had been represented by various releases which even delved into Rózsa's own private collection of tapes to get the music out there. James Fitzpatrick, having produced previous epic recordings, undertook the challenge of organizing the reconstruction and recording of all the music composed for the movie. The project was backed by Prometheus Records. Release Date: SEPTEMBER 28th 2015 to coincide with an all Rózsa concert to be given by the same orchestra in Prague. Click image for orders and info from Tadlow or Screen Archives for generous sound samples.
El Cid Organ CD. Alan Hamer breaks the news about a new project that Organist Philipp Pelster has been working on and now has got to the stage of a release on the Antes label, apparently to be distributed by The Naxos group this October. He recorded nearly an hour of the main sequences of the score at Leon Cathedral. The sequences which Alan has heard sound very good. This follows up Mr Pelsters recent Naxos disc of CONAN, which seems to have been well received.
It will be an interesting and fairly unique MR release resulting from a really novel and adventurous project. Philipp is a sincere and talented musician and scholar who qualified with his doctorate in music this year.......with a thesis on Herman Grabner.
Rerelease Rózsa Concert Music CD. September release. Cello Concerto, op.32 Sinfonia Concertante, op.29. Artists Raphael Wallfisch (cello) Philippe Graffin (violin) BBC Concert Orchestra Conductor Barry Wordsworth - See more details




Desert Fury.
From Intrada, 1947 soundtrack of Desert Fury, one of Burt Lancaster's first three pictures (all scored by Rozsa!) but remains the most obscure. Hal Wallis produces, Lewis Allen directs, Robert Rossen scripts, Burt Lancaster stars with Lizabeth Scott, John Hodiak, Mary Astor and then-newcomer Wendell Corey. Filmed outdoors on gorgeous Arizona locations in Technicolor but centering on "noir" complications of a small-town love triangle, Rozsa imbues his masterful score with both dark-edged overtones of drama and soaring ideas for locale. At center is Rozsa's signature, angular thematic "noir" style but he affords several splendid, emotionally rich elements in beautiful balance. Made possible courtesy Paramount Pictures release of 35mm transfers of the optical music tracks made many years ago but only recently discovered. In excellent condition, save approximately ten minutes of material lost to the ages. In balance, however, some eight minutes of never-before-heard alternates did survive. A total of 56 minutes of powerhouse Rozsa now available for the first time ever! Part of Paramount Picture's ongoing Historical CDs preservation efforts. Artwork courtesy Universal Pictures. Informative liner notes from Frank K. DeWald, colorful graphic design by Joe Sikoryak. Eugene Zador orchestrates, Miklos Rozsa conducts. Intrada Special Collection CD available while quantities and interest remain!

S&G score from Prague Posted on facebook by James Fitzpatrick. "...final 120 minute recording is now all edited and mixed ...just waiting on record label to announce the release date...hope I can persuade them to make it Sept 28 to coincide with big Rozsa concert in Prague???" 5/7/15
Lost Weekend Score from Intrada Recently located 35mm magnetic transfers by Paramount Pictures of nearly every cue scored for 1945 "Best Picture" Oscar winner The Lost Weekend are made available for the first time ever, including never-before-heard alternates, revisions. Nealy 70 minutes of landmark score showcase Miklós Rózsa at his finest! (Click image for more details).



New recording

From Alan Hamer; "A really fine new CD has been recorded by Viola player Kristina Fialova from Prague, and issued on the ArcoDiva label (click image). Entitled "Introduction" it features solo viola works by composers such as Khachaturian, Stravinsky and Penderecki; but the ace in the hole (and the inspiration for the disc's title) is Rozsa's Introduction and Allegro, Op.44.

Hers is a deeply felt and highly idiomatic interpretation of the piece, well worth the price of the CD. Ms Fialova is a very accomplished player who has performed Rozsa's Concerto also, and she states in the notes to this disc that he is her favourite composer. It is an extremely well produced release with sensible notes, and well worth checking out". 6/6/15
Full Rózsa Concert. Prague in September. A full concert devoted to the Epic Film Music of Miklós Rózsa will take place in Prague on September 28. Those wishing to attend this concert are asked to make themselves known to either Doug Raynes or through the MRS website, info@miklosrozsa.info. We wish to arrange a get together which may include attendance at the rehearsals, courtesy of James Fitzpatrick.

New Sodom and Gomorrah. Recording Sessions have been completed with the choral music being canned at the Smecky Studio in Prague. Leigh Phillips has reconstructed over 100 minutes of the complete SODOM AND GOMORRAH for recording including the complete Battle of the Dam music plus Leigh has found quite a lot of music that never made it to the previous 2 CD Italian set.The Theme and Answer to a Dream cue, found on the Great Movie Themes disc will also be recorded. It was Rózsa's last epic score with all the hallmarks of the successful Ben-Hur but the movie did not do well resulting in what became a rather unappreciated score. Mr James Fitzpatrick is rectifying this by bringing the complete score cues to CD. No date has yet been mentioned for the commencement of sales.

Rózsa Tribute Concert. A Tribute concert in honour of Miklós Rózsa was held in Cologne Germany with Rumon Gamba conducting the WDR Funkhausorchester in both concert works and a film suite. This was a well programmed concert Highlighted by the Viola Concerto performed by Lawrence Power. A group of Rózsa Society members were present and contributed to the standing ovation afforded the Conductor, soloist and orchestra at the conclusion of the evening. Members attending were in agreement that the concert was a fine example of cooperation and mastery of Rózsa's contemporary musical idiom by all players, Soloist and conductor. Those interested can hear this concert in a broadcast in March. Stay tuned. More about this concert on the Discussion Forum. 23 Feb 15 http://miklosrozsa.yuku.com/topic/1710/Cologne-concert-on-22215

Solo Clarinet Release.A New recording of the Sonatina for Solo Clarinet composed by Rozsa in his latter years has become available.


Los Angeles Discussion Salons: Émigré Directors and Émigré Composers. February 15–Émigré Composers. Converse about composers Miklós Rózsa, Erich Wolfgang Korngold, and more while listening to their Hollywood recordings—with UCLA ethnomusicologist Neal Brostoff and descendants Juliet Rózsa and Kathrin Korngold Hubbard. Sundays, January 11 (Emigre directors)and February 15, (Emigre composers) 2:00 p.m. More info
Fedora reissue A Varese limited rerelease of the Fedora CD was sold out within 24 hours but can be downloaded from the net. The CD is not altered from the original except for the new notes by Jim Lochner. The CD is avaialable for download here. from Amazon Dec 2014

New Book Music in Postwar Hollywood Biblical Films. Available as Paperback and Kindle as well as Hard cover.
Epic Sound: Music in Postwar Hollywood Biblical Films

Postwar biblical epics such as Samson and Delilah, Ben-Hur, Quo Vadis and King of Kings. In Epic Sound, Stephen C. Meyer shows how music was utilized for various effects, sometimes serving as a vehicle for narrative plot and at times complicating biblical and cinematic interpretation. In this way, the soundscapes of these films reflected the ideological and aesthetic tensions within the genre, and more generally, within postwar American society. By examining key biblical films, Meyer adeptly engages musicology with film studies to explore cinematic interpretations of the Bible during the 1940s through the 1960s.

Says Mr Meyer "My book Epic Sound: Music in Postwar Hollywood Biblical Films was just published by Indiana University Press. I have chapters on QUO VADIS, BEN-HUR, and KING OF KINGS, all (as I'm sure you know) with wonderful scores by Rozsa. You might also know that Rozsa's papers are housed here at Syracuse University. I first became interested in this topic by browsing through our special collections."

Tribute to Rózsa concert February 22 will see a Tribute concert in honour of Miklós Rózsa in Cologne Germany. Rumon Gamba will be conducting the WDR Funkhausorchester in both concert and film works. Details

New Sodom and Gomorrah recording.James Fitzpatrick, from Tadlow Music, has confirmed that he will be recording a new complete recording of Rózsa's last epic score, Sodom and Gomorrah. On Facebook and on the FSM board he said, Quote, "Working on a Bernard Herrmann score...followed by Miklos Rozsa...." "a Rozsa score next March" and indicating that it was not a Noir score. Finally he confirmed the title when a reissue of the Digitmovies release was announced. "I am planning to record SODOM & GOMORRAH in first half of next year" 10/14

New BluRay releases. The 125th anniversary of Vincent van Gogh's death will be commemorated in 2015. Appropriately, the film 'LUST FOR LIFE' is being released for the first time on Blu-ray by Warner Bros on February 3, 2015.
Also LAST EMBRACE is now available on DVD and Blu-Ray (locked to region A) on the Kino Lorber label. It includes an interesting interview with producer Michael Taylor who praises Rozsa's score and said it was director Jonathan Demme who suggested he do the score. Src Doug Raynes. 10/14
Recent Rózsa CD.Released by the Equilibrium label, a CD titled 'Double Life - Miklós Rózsa's Concert Music for Strings' which is also available for download.(click icon) The tracks are all drawn from the concert music side of this "Double Life" and feature Marjorie Bagley, violin. Stephen Swedish, piano performing the Duo for Violin and Piano as well as the Violin Sonata. Michael Carrera, cello with Steven Huang conducting the National Philharmonic of Moldova play the Sinfonia Concertante. The CD arrived virtually unannounced after being some years in the making and should provide an interesting addition to the growing Rózsa concert music CD collection. (see previous news item 2008)
Upcoming CD.Escape to Paradise.Daniel Hope has fused his passions for film and music. He was granted complete access to the Paramount archives both for researching and filming his new book and documentary. Hope found original film score manuscripts by Korngold, Rozsa, Heymann, Jurmann, and many others. This project resurrects some of the music from one of Hollywood's greatest eras. Daniel's new disc contains 14 minutes of music from Ben-Hur, El Cid and Spellbound, in new arrangements by Paul Bateman, and will be released on Deutsche Grammophon in September."I adore the music of this era and every opportunity to work with the music of. Korngold, Rozsa, Steiner, Newman, Herrmann, etc. whether as arranger or conductor, is greatly welcomed.
Frank DeWald has this to say. "I like this CD very much. The repertoire is interesting and the performances are superb. The Rozsa transcriptions by Paul Bateman are totally faithful to the spirit (if not always the letter) of the originals. There is tremendous musicality on display throughout the album." Digital download

Announcement.On the 27th June 2014 Miklós Rózsa's granddaughter was married. The Society and all who love Rozsa congratulate his granddaughter Ariana Rozsa Battaglino on her marriage today to Germano Margiotta in Villa Santa Maria, Italy.

Tribute to Rózsa Concert. Movie theater or concert hall - Miklós Rózsa stands for great art and great entertainment. The WDR radio house orchestra also. To be held in Cologne, Germany under the baton of Rumon Gamba. Lawrence Power, Viola. Sunday 22.02.2015, 18 Uhr, Köln, Funkhaus. A tribute to Miklós Rózsa is to include; The Vintner's Daughter, Viola Concerto, Thief of Baghdad suite, Thema, Variationen und Finale. WDR Funkhausorchester Köln

Guitar Sonata.
To be released in July, 5 CD set (for the price of one) bringing together a wide range of guitar sonatas by Baev, Biberian, Porqueddu, Cavallone,Manén, Migot, Gilardino, Rózsa. A journey through wildly differing styles, from Impressionism to Expressionism, from the simple to the complex, from the folkloristic and descriptive to absolute music. This title will be released on July 21, 2014.



The Twelve Choruses. This modern recording of the Twelve Choruses with organ accompaniment repeats the programme already available on an obsolete CD and the organ and choir succeed in presenting it in a well arranged, fresh and convincing performance. Notable about this CD is the Newly recorded 23rd Psalm composed by Rózsa in 1972 as Opus 34
Latest CD release news.From Frank K Dewald; American (but British-based) clarinetist Jean Johnson has recorded Rozsa's two works for solo clarinet for release on the Avie label this June. The disc, which includes both the Op. 27 Sonatina and the Op. 41 Sonata, also includes the two clarinet sonatas by Johannes Brahms (in which Ms. Johnson is accompanied by her husband and duo partner, Steven Osborne). It is available for pre-order in the U.S. from Barnes and Noble: http://www.barnesandnoble.com/w/brahms-r-zsa-clarinet-sonatas-jean-johnson/27590236?ean=822252231120. Amazon and other online retailers will presumably carry it as well. Planned U.S. release date in June 10; U.K. release date is set for June 23.


From John Fitzpatrick; A new release features the String Quartet No. 2 (Op. 38) along with Arnold Schoenberg's First Quartet of 1905. That would be pre-12-tone of course. First Boulez with the Sinfonia concertante; then Carter (twice!) with the Piano Sonata; now this. What would the maestro have said about these once unlikely discmates? Details This limited release (300 copies)is available only direct from the Portland String Quartet via jaes15@maine.rr.com It derives from a 1991 live performance.
The Man in Half Moon St. Intrada has announced an April 1st release date for a new CD recorded by Allan Wilson and The Royal Scottish National Orchestra. To include more than twenty minutes of rerecorded music from the title film and a selection of suites and cues from other movies. This CD should be eagerly received by Rózsa film score fans.
Good Friday Broadcast. A special arrangement by Allan Wilson of "The Way of the Cross" from the Twelve choruses, is to be broadcast by the BBC on Good Friday. The concert recorded earlier in March should be available on the BBC Iplayer as usual for one week. Listen here Allan Wilsons's interest in Rózsa bodes well for the future.
Chandos releases Rózsa film suites. Alan Hamer reports that a new Chandos CD will be released in March, and contains the Jungle Book - Suite (orchestral only), the THIEF of BAGDAD suite (as published but with the addition of the Sultan's Toys sequence), a Ben-Hur suite, and a SAHARA Suite (about 7 - 8 mins long) which was also recorded in Glasgow at the time of the RED HOUSE disc sessions by the Scottish Orchestra under Rumon Gamba. Notes are written by Andrew Knowles. Available now for paid download and samples.
British DVD release.Formerly only available as a Spanish DVD, 'The Other Love', scored by Rózsa has received a release from British company, Renown Pictures Ltd. Prominence is given on the cover to Rózsa's part in the movie. More details
Tadlow 'El Cid' for download The Prague rerecording of the El Cid score is available as a download in addition to the CD format. Originally released by Tadlow Music in 2009 as a three disc set it is available in a two disc format worldwide. Album MP3 download
Koch Piano CD reissued The Complete Works for Solo Piano recorded by Koch label in the 90's has been reissued. From John Fitzpatrick "Arkiv has reissued Buechner's Koch recording of the "Complete Works for Solo Piano" (also available in MP3 format). Their site reproduces Royal S. Brown's rave Fanfare review from 1999". http://www.arkivmusic.com/classical/album.jsp?album_id=33047
The Golden Voyage of Sinbad Blu-ray United States, described as a Screen Archives Entertainment Exclusive. A Limited Edition of 3000 Blu-Ray dvd's is being offered of this 1970's Rózsa scored movie with an isolated score track. View here Dec.16.13
Sherlock Holmes release sold out Quartet have sold their stock and CD supplies are now only available from retail sources such as Intrada or Screen Archives. Dec.14.13
Sherlock Holmes release Quartet Records has just released the original tracks of the Rózsa scored movie 'The Private Life of Sherlock Holmes'. Though in mono, the sound is described as good and an improvement on previous bootlegs of years gone by. Rapid final approval of the artwork and the 28 page booklet ensured that Quartet could include this CD in a pre Christmas release along with Passage to India and Beastmaster. The source is the film stems and producer Jose Benitez and his engineer have worked very hard to get the best possible sound. The release is titled as "The Archival Edition".The following is supplied by Quartet;


Quartet Records and Metro-Goldwyn-Mayer present the world-premiere release of the classy, unforgettable music composed by Miklós Rózsa for Billy Wilder´s classic The Private Life of Sherlock Holmes.
Wilder's unique take on the world's greatest consulting detective was meant to explore previously dark corners of Homes' life—including his addiction to cocaine and his troubled relationships with women. Last-minute studio jitters forced Wilder to make massive cuts, shortening the running time from 210 to 125 minutes. The resulting film, in spite of great performances by Robert Stephens, Colin Blakely, Genevičve Page and Christopher Lee, failed to catch fire at the box office.
For music, Wilder turned to his friend and past collaborator (Five Graves to Cairo, The Lost Weekend, Double Indemnity) Miklós Rózsa, asking him to adapt his Violin Concerto, Op. 24, for the film. Rózsa obliged, augmenting the concert work with a number of evocative new themes for the picture. The music for Holmes anticipates the elegant but autumnal mood of such later scores as Providence, Time After Time and Last Embrace, while simultaneously combining the compassion and wisdom of experience with the wit, charm and joie de vivre of youth.
The soundtrack album of The Private Life of Sherlock Holmes was never issued on LP. Rózsaphiles were thus understandably ecstatic when, in 2007, James Fitzpatrick reconstructed and recorded the entire score for Tadlow Music. That superb recording remains an essential touchstone in the Rózsa discography. Still, fans have continued to hope for a release of the original tracks.
Quartet Records spent almost three years searching for the best possible sources, but the original masters are, unfortunately, forever lost. We have used three different monaural music-only stems from the MGM vaults for this release—none of which was in ideal condition. Engineer Jose Louis Crespo has minimized the changes in level necessitated by the addition of dialogue and effects and meticulously blended the best sources for each cue. (A tech note included in the booklet explains the lengthy and frustrating process in greater detail.) The resulting CD, in spite of its less-than-ideal sound, preserves the composer's own irreplaceable interpretation, bringing this marvelous music back to life more than 40 years after it was written.
All of Miklós Rózsa's music is worth preserving. This premiere "archival edition" of the original tracks of The Private Life of Sherlock Holmes, extraordinarily performed by the Royal Philharmonic Orchestra under the composer's baton, was a labor of love for everyone involved. The immortal music of Rózsa deserves nothing less. The lavishly designed package includes a 28-page booklet with liner notes and track-by-track analysis by Frank K. DeWald. Dec.5.13
FSM back issues available Lukas Kendall of 'Film Score Monthly', has made past isues of the magazine avilable in an FSM Archive. All except the earlier issues are in searchable PDF format (as is the case with our own PMS Journal archive). FSM deals mainly with film music. The collection has a substantial number of articles on Miklós Rózsa and can be accessed through this link. Search Rózsa issues
Sonata for Solo Flute A lower priced CD of the newly recorded Flute Sonata has been released. Discovering Treasure for Solo Flute by William Alwyn, Charles Koechlin, Miklos Rozsa and Arthur Willner. Francesca Arnone (flute) Games of Light
Rózsa's 23rd Psalm St Louis Chamber Chorus released a CD on November 10th titled 'American Declarations' which was recorded on the British label, Regent Records in February 2013. "This will be our fourth collaboration with this innovative niche company, and represents the talents of our wonderful singers, staff, engineer Daniel Ruder and producer Gary Cole. The repertoire ranges from the stirring to the enthralling, and covers different traditions of American chamber choirs, from the art song to the spiritual, and from a modern madrigal to a choral symphony. The CD was recorded in the warm acoustic of Second Presbyterian Church in the Central West End in early 2013". The CD (and others!) can be purchased from their website, St. Louis Chamber Chorus advise they will update the website with a track list and sound samples.
1. Hymn to Music (Dudley Buck)

2. The Lord is My Shepherd (Miklós Rózsa)
3. Evil shall not prevail (Wallingford Riegger)
4. Declaration Chorale (William Schuman)
5. What do you think I fought for on Omaha Beach? (Melissa Dunphy)
6. A Lincoln Letter (Ulysses S. Kay)
7. MLK (U2 arr. Bob Chilcott - yes, *that* U2)
8. There is a Balm in Gilead (arr. William Dawson)
9. Lament (Sven Lekberg)
10. Stabat Mater (Stephen Paulus)
Symphony for Voices (Roy Harris)
11. I - Song of all seas, all ships
12. II - Tears
13. III - Inscription
14. Sunset: St. Louis (Three Teasdale Madrigals) (Howard Helvey) Nov 13
Hollywood Golden Age series An announcement has been made for another release of the Golden Age of Hollywood series with Volume 4 to include a newly recorded suite from "Lost Weekend". Volumes 1, 2 and 3, offered three years ago, all included Rozsa suites along with other well known film works.
BBC live concerts The BBC is currently highlighting the 'Sounds of Cinema' in a series of programmes to demonstrate the contribution music has made over the years. Live broadcasts of concerts are the order of the day including the colourful 'Thief of Bagdad' suite and the unusual 'Spellbound' suite which employs the Theremin an instrument which has seen a revival over recent years. Both can be heard on the BBC3 website. Thief of Bagdad and Spellbound 18 Sept 2013
BBC Proms 2013 The BBC proms this year included some well known Ben-Hur selections. John Wilson conducting a specially assembled orchestra gives a wide representation of the "Golden Age". Listen and watch here
Tippett Quartet update Frank de Wald reports that the new disc, featuring the Quartet in the original version of the string trio (plus the two quartets), is moving through the final production stages and is scheduled for release in October. See earlier item.1 Click image for details. 18-July
Isolated score Blu-ray Doug Raynes reports that a Blu-ray of A TIME TO LOVE AND A TIME TO DIE is being released on the UK Masters of Cinema label later this year, It contains an isolated score and effects track which at least will enable listeners to hear more of the score uncluttered with dialogue and in better sound quality than the soundtrack album. 12 July 13
DOUBLE LIFE paperback. MSR Books in the UK have renewed their offer of a special price for new paperback issues of Miklós Rózsa's autobiography. Price is Ł5.95 plus postage. Direct contact to msrbooks@tiscali.co.uk will ensure a copy and payment can be arranged through Paypal if required.
Theme and Variations Released in June under the CD title 'Hungarian Works for Violin & Violoncello' on the German label Haenssler, the Theme and Variations makes it to another recording and this time by Friedemann Eichhorn (violin), Alexander Hulshoff (cello). This version is arranged for Violin and Cello alone by B. Gurevich CD Details The tracks are also available for download.
Fedora restored. Marking 35 years that have passed since its Cannes premiere in 1978, a freshly restored version of Billy Wilder's "Fedora" was shown for the first time. Long available only in faded prints, scratched so severely the image was on the verge of bleeding, the movie can finally get its due as an important late work of a great director (DVD and Blu-ray releases are rumored to follow soon). Read the whole article here
Heifetz Concerto Remaster A remastered CD of the Rózsa Violin Concerto performed by Heifetz in the 1950's is scheduled for the near future. Details are noted on the site of Acoustic Sounds 15 May 13
Varese celebrates On May 11, 2013 the Golden State Pops Orchestra will stage a historic concert in celebration of Varčse Sarabande's 35th Anniversary and host a gathering of the label's roster of composers, along with other dignitaries from the film music world of Los Angeles including Juliet Rozsa. A piece from 'That Hamilton Woman' will complete the Rózsa representation. 30 April 13
Oboe Sonata on CD. To be released March 26th through the Bayer Music Group comes this CD of works by hungarian composers and performed here by hungarian Lajos Lencsés. (oboe, English horn) On this CD the Hungarian oboist Lajos Lencsés assembled a few works for his instrument by Hungarian composers including Rózsa's Sonate für Oboe solo op.43 1987. While the pieces may not all have the word "Rhapsody" in their names, they all breathe the spirit as such. Lajos Lencsés studied at the Music Academy of Budapest, the National Superior Conservatory of Music, was awarded the prize of Geneva in 1968 and was oboe soloist at the Philharmonia Hungarica from 1967 – 1971. Since 1971 principal oboe at the Symphonic Radio orchestra of Stuttgart. As a professor and oboe soloist, M Lencses is invited all over the world and has more than 50 discs as a soloist and is winner of many prizes. CD details 22 Mar 13
Theremin revival Some of Miklós Rózsa's best known and award winning scores used the Theremin to highlight the dramatics in films like Spellbound, Lost Weekend and The Red House. In the period that followed the Theremin made regular appearances in many films until it dropped out of favour and was virtually unheard for a long period. Over recent years it has made a return with a new generation of Thereminists, amongst them the young dutch player, Thorwald Jorgenson. Mr Jorgenson played the theremin part of the Spellbound Concerto recently with the Zeeuws Orchestra in the Netherlands in January. The Zeeuws Orkest cond Ivan Meylemans. Thorwald Jorgensen (Theremin). Dries van den Berg (Piano)
Compilation CDs Two CD sets of film music which include Rózsa compositions have or are soon to become available. As seems to be the case nowadays they are also presented as a download with the actual CD being issued later. The Hitchcock double CD includes six Rózsa tracks forming a Spellbound Suite. As expected it includes substantial Herrmann along with other composers that worked with Hitchcock. Click on the icon for further information.
The second CD which is titled The Golden Age of Light Music: Cinema Classics is available here for download, has two tracks from film music by Rózsa. Ben-Hur Prelude and King of Kings, Miracles of Christ. Samples are available.
Upcoming CDs Two CDs of concert music are still in the pipeline with no firm release date available yet. The Tippett quartet's full Rózsa CD recorded for Naxos last year (see earlier report)1 and the Piano Sonata played by Martin Perry to be released on Bridge Records shortly.(MP3 available for download. Click on icon) 6 March 13
Awards Alan Hamer, the society European representative reports on the forum "it is a real joy to announce that the award for the Sammy Film Music Award (SFMA) for best newly recorded score this year goes to......QUO VADIS!! (On Prometheus).

In addition, the award for the International Film Music Critics Award (IFMCA) for Best Archival Recording of an Existing Score goes to.....QUO VADIS!! (On Prometheus).

A Double triumph for what is fast becoming one of the greatest newly re-recorded productions in recent times, and this is so heartening and great to see. We were all pretty sure it would turn out to become a classic realisation in the hands of Nic Raine, and produced by James Fitzpatrick, and sure enough it has done just that". 1 March 13
"Providence" from Digitmovies Announced for release on February 25 is an expanded issue of Providence. Rózsa in a more subdued style. Providence (1977) is regarded by many as Rózsa's last important film score and was a hugely rewarded film from one of France's greatest directors. In their promotion Digitmovies states; "To realize this ambitious project, we utilized a first-generation, full-stereo master tape of the original LP soundtrack album, augmented by first-generation stereo masters (preserved in the Sugar Music archives). In addition to the fifteen tracks (35:48) from the album presentation our CD includes all the remaining cues from the master tapes (17:25) giving a total time of 53:13. With the assistance of Doug Raynes, we wanted to produce a deluxe edition digipack that would pay homage not only to the wonderful musical artistry of the legendary Miklós Rózsa but to the great director Alain Resnais and a film that has left its mark on the history of international cinema. Providence was a multi-award winner at the 1978 César Awards, including Best Music, Best Film and Best Director. Sir John Gielgud also won the New York Film Critics Circle Award for Best Actor". The CD is priced above average for a single CD at $23.95.
"Red House" on the Excalibur Collection Rózsa's so called "Double Life" takes on an extra significance with the simultaneous release of a Concert Music and two Film Music CDs from Chandos, Prometheus and Intrada.
Intrada announces the release of the world premiere and all-new recording of a masterful Miklós Rózsa score from 1947. Rózsa fans have requested this one for years. Charles Gerhardt recorded a 12-minute suite in 1975, offering a taste of the involved, complex and colorful score. The splendid Gerhardt sound inspired producer Kevin Kaska (who expertly reconstructs the entire score) to seek the same crisp, detailed sound from The Royal Scottish National Orchestra & Westminster Cathedral Chamber Choir... plus the ghostly sound for haunted suspense from the theremin, here played by Charles Richard Lester.

Rózsa captures the sumptuous romance, sinister suspense, violent murder, sunny outdoors, grim seclusion, even the dark human subconscious. In a fascinating turn of events, perhaps more than with any other score, Rózsa both looks backwards to an aggressive film noir voice while looking forward to the rich, sweeping harmonic vernacular of his upcoming costume epics and period scores. Results are musically profound. Highlights are many: tender violin solo during "Meg Asks Questions", haunting theremin tones hovering above "The Accusation", florid woodwind runs glistening as "Nath Explores The Woods", modal harmonies of "Graduation Present" that suggest his later BEN-HUR, searching material and angelic voices that surge forth during "Meg Finds The Red House", agitated, violent action of "Teller Shoots At Meg", ghostly women's voices with theremin during climactic confrontation... the list goes on. Then, when Rozsa and film finish, his dynamic score comes to a powerful conclusion with glorious, fortissimo major-key coda. One of the great film score endings. Rózsa authorities Dan Robbins and Frank DeWald offer scholarly commentary in a handsome booklet.

The complete 82-minute score would not fit on one CD and rather then cut precious bars down to fit, a musically appropriate spot to change discs was made with Rozsa's musical architecture in mind. (CD 1 is considerably longer than CD 2.) Paul Talkington, Paul Wing nurture the entire recording with Kevin Kaska while Dan Robbins consults. Intrada proudly releases the album under their Excalibur brand of classic film score re-recordings. Allan Wilson conducts The Royal Scottish National Orchestra, giving Rózsa fans one of the greats!
Quo Vadis. The new Quo Vadis recording is currently being delivered and early reports are enthousiastic.


News of the release of the Quo Vadis full score brings to an end the 60 year wait for one of Rózsa's biggest efforts which set a benchmark for the biblical epic. Tadlow music produced the new recording for Prometheus of Belgium and hereby creates the first full recording of all the music heard in the film and more. The last serious attempt to recreate a significant part of the Quo Vadis music was undertaken by Miklós Rózsa himself in 1978 when an LP was recorded in London. Some members of the Rózsa Society were in attendance and at least one of those, Alan Hamer, was also in attendance at these new recording sessions. Alan's (and others) reports can be read in the latest issue of PMS where parallels are drawn between the two sets of recording sessions. A report which Alan made in 1978 about the Rózsa conducted session can be read in PMS 21 in the Pro Musica Sana archive on this site.

"THIS IS THE BIG ONE!" proclaimed the ads. Miklós Rózsa's score for the 1951 epic Quo Vadis is one of the biggest "holy grails" for soundtrack collectors, but the loss of the original music tracks has meant that the complete score, unencumbered by effects and/or archival sound quality, has been unavailable – UNTIL NOW!
Produced by James Fitzpatrick for Prometheus Records, this 2CD Collector's Edition of the complete score features previously unreleased music (including the complete 7-minute "Burning of Rome" sequence and several cues that were dropped from the film), newly recorded in stunning and dynamic digital sound. From Nero's songs to arena hymns, from powerful Roman marches and fanfares to a gorgeous love theme, from colorful music at the Roman Bacchanale to fiery music for the burning of Rome, from the exultant "Main Title" to the ecstatic "Finale" – it's all here! Over 136 minutes of classic and glorious Rózsa, carefully reconstructed from the original studio scores by Leigh Phillips and excitingly performed by The City of Prague Philharmonic Orchestra and Chorus under the baton of Nic Raine. Bonus tracks include the premiere complete stereo recording of Rózsa's Quo Vadis Suite. The 28-page booklet, illustrated with film stills and recording session photographs, includes detailed and informative notes by Rózsa Society member Frank K. DeWald and background information on the recording by producer Fitzpatrick.
Background to Violence Reissue.
Following the reissue of A Time to Love and a Time to Die paired with the Lust for Life Suite (see below) the Canadian 'Disques CinéMusique' carries on with other works that were originally released on LP. The suite 'Background to Violence' and the concert works 'Concert Overture, Op. 26: Three Hungarian Sketches, Op.14: Theme, Variations and Finale, Op. 13' with, in all cases, the composer conducting the Frankenland State Symphony Orchestra. Although the concert works have been newly recorded more recently on Naxos, this CD gives a good demonstration of how the works were handled by the composer. Listeners will find the same passion and fierceness, the same generous and richly textured orchestrations that characterize the movie scores that made Rózsa's name famous. Listen here t a Chandos music sample
Recent DVDs Warners have recently added two Rozsa scored DVD titles to their 'manufactured to order' DVD archive. They are The King's Thief Crest of the Wave
Daniel Robbins Lecture A lecture by the film score reconstruction expert Daniel Robbins will be given on September 28th in Alexandria, Louisiana. The Rapides Symphony conducted by its music director, Josh Zona will be opening the season with an inclusion of the "Overture" ("Entr'acte") and "Parade of the Charioteers" from the Robbins Ben-Hur choral suite. Daniel Robbins will appear as guest speaker for the event. On the Friday night, September 28. He will present a lecture entitled "Music in the Movies", a discussion and demonstration of how scoring affects films and includes sample scenes from Spartacus, To Kill a Mockingbird, Ben-Hur, Touch of Evil, Breakfast at Tiffany's, and Julius Caesar. It shows two interviews with Dr. Rozsa discussing "The Rowing of the Galley Slaves" scene and the use of his "Dragnet" musical motive in The Killers. Rapides Symphony Orchestra. 1101 Fourth Street, Suite 201. Alexandria, Louisiana 71301. e-mail: manager@rapidessymphony.org
Chandos; Rózsa Orchestral Works vol 3 The third volume in this series of orchestral music by Miklós Rózsa which includes the Violin Concerto, Concerto for String Orchestra, Theme, Variations and Finale. With Jennifer Pike (violin), BBC Philharmonic Orchestra/ Rumon Gamba conducting. The CD is scheduled for 1st October but is available for immediate download in MP3 or Lossless format with cover art and booklet online. More details
Martha Ivers Sold out Kritzerland records have sold their 1000 copies of 'The Strange Love Of Martha Ivers'. Online retailers have reportedly had their stock snapped up as well. 5 Sept 12
Kritzerland joins the Rózsa fest Kritzerland Records are to release their first Rózsa title. From the Paramount vaults comes 'The Strange Love of Martha Ivers'. This, till now unreleased, soundtrack has previously only been represented by a short suite. The issue is limited to 1000 copies. Sound quality is described as good and vitually all music is on the disc. Some damaged material in the original tapes has been culled but is well represented in other tracks according to Kritzerland. Fans of Rózsa's 'Noir' compositions will rejoice in the availabilty of of this long awaited score. Some still available at Amazon Read more opinions about the release at The Rózsa Forum 12 Aug
July 5 score re-release From the late fifties a more intimate work than the historical epics with which Miklos Rozsa's name was usually associated, A Time to Love and a Time to Die features the composer's usual rich orchestral palette and powerful bursts of dramatic tension with the support of a large brass section. Romance takes also an important place in this story of a German soldier dealing with the consequences of the Second World War. A 22-minute stereophonic recording of the Lust for Life Suite, performed by the German Frankenland State Symphony Orchestra gathers here the main themes from his 1956 score for Vincente Minnelli's drama based on the life of artist Vincent van Gogh, starring Kirk Douglas. This suite, close to the original soundtrack but intended for the concert hall, was first released on a Decca LP in 1958. Ju 12-page full color booklet.
Final Print Issue : Pro Musica Sana 67 In its 40th year of existence and with the trend toward online information, The Miklós Rózsa Society has called a halt to it's printed publication. John Fitzpatrick announced the final chapter in the latest issue of Pro Musica Sana which is currently in the mail. Costs, Time and the lack of contributors are amongst the reasons given for calling a halt to this long running print production.

A final 28-page issue focusing on current and past items is in the mail. In an article from the Society President titled 'TURNING THE PAGE Reviewing the print era of PMS and envisioning the unknown future,' John Fitzpatrick states "This is the last issue of Pro Musica Sana. More precisely it is our last regularly scheduled print publication. The Miklós Rózsa Society goes on, of course, with a vigorous online presence." The article goes on to explain this decision and what sort of future is envisioned. Other articles in this final milestone issue include
QUO VADIS 2012: Like Making a Movie John Fitzpatrick, Frank K. DeWald, and Alan Hamer recount the week-long recording sessions in Prague.
THE SCREEN CREDITS THAT WEREN'T Albert Sendrey's posthumous account of his London years offers a new perspective on the start of a famous career.
VERITABLE BEACONS alan Hamer on concerto performances in Glasgow and London.
JUNE 10th, 1972 Recalling an early milestone in our 40-year history.
Read John Fitzpatrick's announcement at the forum.
Quo Vadis unveiling at Cordoba The promo video for QUO VADIS was to be premiered by James Fitzpatrick this week at the film music festival in Cordoba (Spain). As reported on the concert page there will also be a concert including titles from Rózsa recorded by Tadlow. (Quo Vadis, El Cid and the Violin Concerto adaption) in a programme of Golden Age film music. June 12

Doug Raynes reports that the Masters of Cinema Blu-ray of DOUBLE INDEMNITY (which as expected is locked to region B) has an isolated music/effects track. There are not that many sound effects to mask the music so it gives the first opportunity to hear the score unencumbered by dialogue. See earlier news item.
More Rózsa scored films on Bluray Those collectors of Bluray will be interested to know of the two latest films to appear in the Bluray format. Rózsas Oscar scored film 'A Double Life' (after which he also named his autobiography) and the lesser known 'Secret Beyond the Door'. More details by clicking on the icons. June 12
Pro Musica Sana 67 is at the printers and it is expected to be ready for distribution in the next few weeks. Since a substantial period has lapsed since the last issue, members are asked to notify John Fitzpatrick (rozsaphile@earthlink.net) of any address change.
Classic movie fans who enjoyed watching Charlton Heston star in "Ben Hur," or sat on the edge of their seat as Cary Grant outran mysterious pursuers in "North by Northwest," can now supplement their cinema experiences with eBook versions of the original movie scripts. Warner Brothers' "Inside The Script" series will feature "Ben Hur," "North by Northwest," "Casablanca" and "An American In Paris." The eBooks will include supplemental materials such as costume sketches and shooting journals from the film sets and includes a chapter on Rozsa's music. Cost will be $9.99. "People love movies because of the stories they tell," said Thomas Gewecke, President of Warner Bros. Digital Distribution. "Now we can give fans rarely seen details of how these stories came together and take their enjoyment of films to a whole new level." Gewecke reportedly said that he hopes to extend the series to include newer titles as well.

More releases. A Specially Priced 70 minute CD featuring recordings made with The City of Prague Philharmonic Orchestra Conducted by NIC RAINE includes Music of MIKLOS ROZSA as well as MAURICE JARRE FRANZ WAXMAN ELMER BERNSTEIN DIMITRI TIOMKIN BASIL POLEDOURIS and ERNEST GOLD. Rózsa selections include THE PRIVATE LIFE OF SHERLOCK HOLMES – Gabrielle. EL CID – Overture, The Barn : Love Scene and The El Cid March.
Encore for Eye Of The Needle Original Motion Picture Score Composed and Conducted by Miklós Rózsa. From Varese Sarabande "We could think of no better way to begin our Varčse Encore series than by celebrating the music of the great Miklós Rózsa. Dr. Rózsa was one of the very first composers to begin recording for Varčse Sarabande, back in 1981. Rózsa traveled to Nuremberg, Germany to record this album of his score for director Richard Marquand's Eye of the Needle. Marquand's very next film was Return of the Jedi in 1983. Rózsa was the perfect choice for this spy thriller and delivered a genre classic." CDs expected to begin shipping the week of May 29 but already down to 150 from the Limited Edition of 1000 copies Price: $15.98
More Blu-Rays for May . On the heels of the forthcoming CD premiere announcement by Intrada of ' The Red House' comes the movie on blu-ray, said to be better quality than the previous releases which left a lot to be desired.

Also to be released is Strange Love of Martha Ivers which is getting the same treatment: 29 Apr 2012
Goodwin MP3 performance, Rózsa Suite .
A new entry on the Chandos catalogue from an old CD, now downloadable in mp3, where Ron Goodwin conducted Rozsa's film music in a Tribute to Miklos Rozsa. A 9 minute suite, a mix of music from the Gerhardt suites of 'The Red House', 'The Four Feathers', and snippets of the orchestral suite from 'Ben-Hur'. "A nice enough performance, though the 'Anno Domini' motif is played as though the notes were tied, making it strangely oriental". The segments of the three scores are interspersed thoughout. The notes on the Goodwin CD are downloadable http://www.chandos.net/pdf/CHAN%208797.pdf. The original CD is also still available by clicking on the icon. 29 April 2012
The Red House. New Orchestra, Full Score.
In a surprise announcement on the 105th anniversary of the birth of Miklós Rózsa, Intrada Records springs news of the latest release in its Excalibur Collection, featuring a rerecording by the Royal Scottish National Orchestra premiering the complete Miklós Rózsa score to the 1947 film 'The Red House'. No firm release date has yet been given though Intrada states "Fall 2012". Intrada... "The unique combination of the 1940s and the film-noir genre provided Rozsa with an opportunity to compose some of his most stunning film scores. The Red House is one of the greatest of these scores. Full of passion, action, and drama, the score has only previously been released in suite format. Kevin Kaska reconstructed the entire score from scratch, ensuring strict adherence to Rozsa's original orchestrations and resulting in a CD of the complete score running over an hour. In all of Rozsa's extensive body of work, it is no exaggeration to state that this score contains some of the most compelling music he had ever composed".Conducted by Allan Wilson and featuring the Winchester Cathedral Chamber Choir. Retail Price: $19.99. 18 April 2012
Quo Vadis sessions. Rozsa Society members invited to attend the recent recording sessions in Prague will report on the event in the next issue of 'Pro Musica Sana'.
Finland Concert screening. Those left out of sold-out concerts of the Helsinki Philharmonic Orchestra at Helsinki Music Centre will soon be able to make up for their disappointment. They will be able to see and hear the orchestra play at Finnkino movie theatres. The first is on April 19 and will include Rózsa. www.scva.net/events
New York 'Spellbound' screening. May 4 2012. BETHEL WOODS CENTER FOR THE ARTS. 200 Hurd Rd. Bethel, NY 12720 www.scva.net
Quo Vadis "in the can". On the heels of the 'Ben-Hur' 5 CD release comes the completion of the recording sessions by James Fitzpatrick and his crew for the upcoming "Quo Vadis" recording of the complete score. Quo Vadis played a mojor role in the developement of the 'Epic' style of music in which Rózsa, using fragments of surviving music, tried to create an ancient sound which could represent the glory and pomp of Rome. The style developed for Quo Vadis was carried through to other major films of that period.
Members of the Rózsa Society, invited to attend the recording sessions, have described the results as "highly impressive" "sound that is light years ahead of the 1950 tracks". Some highlights include the unused music for the prison scene, the complete "Burning of Rome" sequence (featuring the discarded Act II opening) and several beautiful instrumental solo performances. Expectations are for a 2CD set but no indications yet as to an actual release date. The new recording will be available on the 'Prometheus' label. 31 March 2012
Ben-Hur 5CD "complete"
Film Score Monthly has announced the proposed released of Rózsa's iconic score for William Wyler's 1959 epic, Ben-Hur, in a limited (2000) "Complete Soundtrack Collection" edition. The 5CD set includes every film cue, every outtake, every alternate and every additional take preserved by the studio, mastered from the original six-track recordings, augmented by rare material from the Miklós Rózsa collection at Syracuse University. In addition, the set contains all three LP recordings released by MGM Records in conjunction with the film—including the premiere CD release of the rare (and controversial) Lion label disc.
Disc 1 and 2 are devoted to the full score (with outtakes); disc 3 presents alternates from Act One in film order; disc 4 includes Act Two alternates; disc 5 features still more alternates and bonus tracks. The three "soundtrack" LPs (all re-recordings made in Europe) make up the first half of discs 3–5.


Befitting its scope, nearly 20,000 words of text accompany this "Monumentum Maximum" edition. About 4,000 of them appear in the 28-page booklet, but in order to make the set more affordable (it retails for $59.99 from Screen Archives Entertainment), FSM is providing the rest of the notes online—for free. These include a track-by-track analysis of the film score, original LP liner notes and an explication of the various alternates and album versions.

Produced by Mike Matessino and Rózsa Society member Frank K. DeWald, this stunning release is the capstone of FSM's commitment (now totaling 40 discs) to Rózsa! Full details and sound samples from SAE Now available for pre-order. Discussion on the new release can be followed on the Rózsa Forum
Double Indemnity/Lost Weekend Blu-ray Our DVDography expert, Doug Raynes reports that
Eureka Entertainment in the UK have announced the Blu-ray releases of DOUBLE INDEMNITY and THE LOST WEEKEND in their Masters of Cinema series (which usually have plenty of extras) for 25 June. However these are bound to be locked to region B because Universal have the North American rights. Both these films have suites available for rental for performance as listed under the "Works pages".
Another score for which a suite is available and which also utilised the Theremin was "The Red House" and it is scheduled to appear on Blu-ray in April and is available for pre-order.
Spellbound Blu-Ray
The academy award winning 1945 / 111 Minute Hitchcock movie 'Spellbound' gets it's Blu-Ray release on January 24th from Twentieth Century Fox Home Entertainment. The Oscar for the best music went to Rózsa who arranged a concerto from it which is regularly performed in concerts today.

Quo Vadis update. Latest comment by James Fitzpatrick on the progress for the new recording of Quo Vadis "60% of the music now reconstructed from the original sketches and ready ... End of March sessions" 11/Jan/12
New Guitar Sonata recording A Japanese recording of the Guitar Sonata Op. 42, which was composed by Rózsa for, and edited by Gregg Nestor has been released on the Fontec label. Guitarist is Kyuhee PARK. Click image for details
Zador CDs. Conductor Mariusz Smolij advises that he has finished recording two CDs for Naxos of music by Eugene Zador, Rózsa's close friend and collaborator. First CD will be out early 2012 the second Dec'12/Jan'13. 14 Dec 11
Concert broadcast.News from Alan Hamer. The BBC broadcast a concert, live on Radio 3, on the 13th Dec as a suitable warm up to the Chandos recording sessions in December and January. All can listen to the concert recordings of "Kaleidoscope" (Op.19a) and the Theme Variations and Finale which can be heard for a limited time from 13th December on the Radio 3 programme. The conductor will again be Rumon Gamba.
Naxos upcoming CD. 1 Alan Hamer, the Miklós Rózsa Society European representative, has advised that he recently attended the first sessions for the next scheduled Naxos release which took place in St. Paul's church, London. Artists were the Tippett Quartet with the Op.1 Trio Serenade in its original form, prior to the 1974 revision which the composer made for the Orion LP recorded at that time. The producer is Mike Ponder, who was also in charge of the ASV Quartet's CD back in 2000. The result is likely to be one of the finest in this series by the mid-price label.
The two Rózsa Quartets, to be recorded over December, and January, will accompany this rarity on the finished disc which is likely to be released next year. There is even a possibility that the Piano Quintet (Op.2), maybe paired with the Cello Duo, will appear on a further CD later on, but we await confirmation.
Alan states that it was indeed fascinating to hear the original, longer and more meaty version of this important work and it proved again to be a really inspired, early student work - the one Rozsa as a young man was most proud of.
The sessions lasted around 10 hours and the leader of the quartet said that it was the longest days sessions he had ever recorded; however, he also much liked the work which, he agreed, for such a young budding composer, was excellently written with fine and sturdy themes. So said all present and we now look forward to a brilliant new disc. 29 Sept
40 years MRS. The Miklós Rózsa Society now in its 40th year has honoured it's founder and principal John Fitzpatrick with an award on behalf of all members, past and present. John has been at the helm over the whole period and guided the Society through changing times from the film composing days when Miklós Rózsa was alive till the present day where the concert music is being performed and recorded and film scores are receiving reconstructions and new recordings. His journal, Pro Musica Sana has seen 66 issues along the way with the 40th anniversay edition being prepared and the website was set up and expanded in more recent years. The award was presented by Alan Hamer (European representative) in New York on 1st October. A page with tributes can be viewed at this link.
Ben-Hur Blu-ray released. Just released is the remastered Blu-ray edition of what many consider to be Rozsa's magnum opus of his film scores. The film has been newly restored from the original 65mm camera elements. Apart from all previous DVD special features, this two-disc Ultimate Collector's Edition will include a music-Only track showcasing Miklós Rózsa's score. In addition to the expected audio commentary, there's more than eight hours of bonus material here: as well as the music-only track; "Charlton Heston: A Personal Journey" (78 min), a new high-definition feature-length documentary chronicling Charlton Heston's life while filming 'Ben-Hur'; several behind-the-scenes and retrospective featurettes; "Charlton Heston: The Ben-Hur Diaries," a reproduction of Charlton Heston's private and insightful diary from January 1958 through April 1960, documenting his time before production of the film all the way through his Oscar win; a 64-page hardcover art production book; and much more. But for Rózsa Society members the question foremost will be about the music.

Comments from Society members and others on the forum include; "A cursory look at the disc(s) has left me very pleased: the color looks dead-on perfect, the image razor-sharp and the audio's breathtakingly clear". -- and -- "Ben-Hur has an absolutely glorious sonic component on this new Blu-ray courtesy of a flawless DTS-HD Master Audio 5.1 track. M-G-M has obviously kept the original stems and mag tracks of this film in more or less pristine condition, and it shows throughout this stunning lossless presentation. From the first boisterous moments of Rózsa's incredible Overture, the difference, especially with regard to the low end frequencies, is instantly audible and incredibly fulsome. The 5.1 track is gorgeously spacious, with excellent use of side and rear channels, especially in some of the film's most famous set pieces, including the galley scenes and of course the iconic chariot race, which is awash in LFE and incredible panning effects. Dialogue is perfectly placed around the soundfield and is always easy to hear, but on reflection, it's the unbelievably gorgeous Rózsa score which perhaps benefits most from this new lossless audio offering. Brass blasts from the speakers in alarming clarity, while strings sound brilliantly bright but never strident. Rózsa's evocative use of harps and other percussion is also incredibly well reproduced on this new track, adding a whole new luster to one of the most celebrated scores in the history of film". Details from Amazon. 27/Sept/11
'Jungle Book' Blu-ray The Blu-ray version of the Rózsa scored "Jungle Book", just announced by Criterion as number 30 in it's Eclipse series, comes as a 3 disc box titled 'Sabu' scheduled for 29 November and features 'The Jungle Book', 'The Drum' and 'Elephant Boy'. Sabu was the popular young indian actor who also starred in another well known Rózsa scored movie of that time, 'The Thief of Bagdad'. This collection of three films will arrive with 1.33:1 transfers and mono sound mixes. Also available in standard downloadable format is a 2011 "view online" version described as bein of much better quality then what has been accepted till now. Read more Click icon for purchase details. 16/Aug/11

'Quo Vadis' recording next year James Fitzpatrick of Tadlow Music has confirmed that preparations are well advanced for recording the complete score to Quo Vadis next year. Details of the announcement and discussion can be found on the Forum 22/July/11

Pro Musica Sana Archive We have again been able to add another 20 issues to the archive bringing the collection available online to 50 issues. Because of a shortage of volunteers, not all issues have received a final proofread but a great deal of time and effort has gone into the process to this stage. Please notify us if you come across any mistakes (page, paragraph and item) Much of the information already in these PMS isues turns up regularly again in discussions on various forums over the years. All issues are in PDF format and searchable. Later issues including the series analysing the 'Ben-Hur' score are available from the society. July/20/11

New Heifetz documentary
Available from late July. Film maker Peter Rosen premiered the documentary on violinist Jascha Heifetz in Los Angeles in April. The 80 minute documentary is titled 'Jascha Heifetz, Gods Fiddler'. Heifetz, who died 25 years ago, was instrumentel in inspiring Rózsa to compose his major concert piece, the Violin Concerto OP. 24, which he premiered in 1956 as well as recording it later. The Heifetz recording, which also included Rózsa's Tema con Variazioni has remained ' in print' ever since. View the preview of the documentary. July/9/11

Coming up soon or just released
* From Tadlow Music a CD which contain tracks from previously released Rózsa full score recordings. In a CD of music for Violin and Orchestra, the concert master of the City of the Prague Philharmonic Orchestra, Lucie Švehlová, includes a track from 'El Cid' and 'The Private Life of Sherlock Holmes' (adapted by Rózsa from his Violin Concerto).
* A CD from Silva Screen titled 'Ancient Warriors' is a 15 track compilation described as "themes featuring legendary kings, fearless slave leaders, warrior princesses and Scottish chieftains". Includes material from previous releases. Rózsa tracks are from 'Ben-Hur and 'Quo Vadis'.
* A recent CD of Violin Duos which includes the Miklós Rózsa "Sonata for Two Violins" with an MP3 downloadable option appeared on the market without fanfare. Amazon offer both formats. This recording was sponsered by the University of Georgia. June 20 2011

Film music awards.Up for consideration for the 'Best Editing' award at the International Film Music Awards in Tenerife is the 'Miklós Rózsa Treasury' from Film Score Monthly. The winner will be anounced at the concert on the 30th June. Other nominations are 'The Álamo' (Tadlow), 'Family Plot' (Varčse Sarabande), 'The Goonies' (Varčse Sarabande), 'Lawrence of Arabia' (Tadlow), 'Spartacus' (Varčse Sarabande).

Pro Musica Sana Archive With the recent addition of another ten issues to the archive of the Pro Musica Sana journal, the Miklós Rózsa Society is well underway to providing a convenient and ready reference to the articles and a window into the history of its association with the composer. Many issues contain letters or articles by Miklós Rózsa and other names from the past. A number of compositions are scrutinised at the time of their appearance and a lot of interesting information brought to light. Access is from the 'Pro Musica Sana Archive' link on the homepage. Later issues of the journal which include the full series on the Ben-Hur score are still available in hard copy from John Fitzpatrick or Alan Hamer. (See contacts page)

Miklós Rózsa: Orchestral Works Volume 2. The second volume in this series of orchestral music by Miklós Rózsa features soloists Paul Watkins on cello and Jennifer Pike on violin. Variations on a Hungarian Peasant Song, Op. 4. The Vintner's Daughter, Op. 23a. Notturno ungherese, Op. 28. Concerto For Cello And Orchestra, Op. 32. The BBC Philharmonic Orchestra is conducted by Rumon Gamba Unsolicited opinions on this new release can be found on the Rózsa Forum.
MP3 download also available from Amazon 31 May 2011

El Cid blueray comes to UK Two years after its German release on Blu-ray in May 2009 by Spirit Media has announced the Blu-ray release of two remarkable historical epic films: 'El Cid' and 'The Fall of the Roman Empire', with a release date of August 21. Both films will feature 1080p VC-1 video and DTS-HD Master Audio tracks for both English and German. Each will contain nearly two hours of bonus features. They are distributed by Koch Media, which usually hasn't applied region locking to its titles so far. In the USA, The Weinstein Company holds the rights to both films. Extras for 'El Cid' include: Three original trailers Picture gallery Hollywood Conquers Spain: 'El Cid' A Visionary Producer in Hollywood: Samuel Bronston Miklós Rózsa, Master of Film Music The Preservation of a Legend: Gerry Burne on the Restoration of a Classic 11 filmographies

A live stream of a concert from Madrid which includes the Violin Concerto will be provided on Friday. The scheduled start is at 8PM European time which is 6PM GMT; 11 am California; 2pm New York and BST 7PM. Details on the Concerts page. To listen click on the Live concert stream


Early Rozsa scored DVD One of Rózsa's early films has become avaiable on The Best of British Classics series on DVD. 'Thunder in the City' a comedy, was composed in 1937 when he started scoring and was still finding his way in the film music world. The film stars Edward G Robinson. Click icon for more information.

More DVD releases. Doug Raynes reports that the Rozsa scored film VALLEY OF THE KINGS has become available in Spain in its first DVD release (region 2). If it follows the usual pattern it should shortly become avaialable from Warners archive. EL CID is now available on Blu-ray in both France and Germany and is coming to the U.K. on the Anchor Bay label 16 May. The U.K. also gets BEN-HUR on Blu-ray on 5 September.

New Book publish date 29 March Miklós Rózsa's Ben-Hur: A Film Score Guide. by Roger Hickman, professor of music at the Cole Conservatory of Music

The Scarecrow press has a March 29th publication date set for number ten of its series of Scarecrow Film Score Guides. The series offer substantial studies of single scores. Subjects are chosen for the series on the basis that they have become and are widely recognized as a benchmark for the way in which film music is composed and experienced. In this book, Roger Hickman focuses on the confluence of traditions, trends, and innovations that shaped Rózsa's score. He provides an overview of Rózsa's music into the 1960s, looks at the composer's musical influences and the development of his distinctive style, and examines how Rózsa applied these compositional techniques to film scoring. The author then explores the Ben-Hur phenomenon and traces the development of the story and its musical traditions from the original novel into the 21st century. Hickman also examines the conventions of epic films and ties these influences together with a detailed analysis of the score. Available at $29.90 Some opinions and details on this book can be viewed in this Rózsa Forum page.

Concert broadcast The third performance by Gilad Karni of the Viola Concerto in Zurich on 11 March was streamed live on internet. This event aimed more at younger people followed the two more traditional concerts from the previous evenings. Link to the stream

DVD r The latest Rózsa scored 'made to order' DVDr from Warners is The Private Files of J. Edgar Hoover. More info.

Concert broadcast On Saturday 12th February the German radio station WDR 4 will broadcast and stream the 'Heroes in motion' concert which took place a week before. A suite of three movements from Ben-Hur will be included. The broadcast and stream will start at 8.05pm european time (7.05 GMT) WDR4 internet stream

Spellbound: Classic Film Scores of Miklos Rozsa
Available from March 1st is the remastered CD reissue of the Charles Gerhardt recording of Rozsa film music. The Gerhardt recording was one of a series he made of different composers and were acclaimed as being of superior quality from a period when many film scores were difficult to come by.

New Naxos CD.
Marius Smolij, conductor of the new recording from Naxos has announced on the Rozsa Society Facebook page the availability of his new CD. After being available only as a download over recent months, the CD format of Miklós Rózsa's orchestral and cello works can now be puchased. Mark Kosower is the cello soloist. The content of the CD had been recorded over the last couple of years culminating in the an mp3 version late last year. Both formats are available. Content; Overture to a Symphony Concert (revised version)/ 3 Hungarian Sketches / Rhapsody / Notturno ungherese (Mark Kosower, Budapest Symphony Orchestra MAV, Mariusz Smolij conducting) Notes are by Frank K DeWald. This CD represents Mark Kosowers second excursion into Rózsa territory. The earlier recording with the Hungarian Music for Cello and Piano
presented Rózsa's Toccata capricciosa for solo cello op.36, written for Gregor Piatigorsky in 1976. 15/Jan/11

FOR EARLIER NEWS VISIT THE News Archive

Upcoming Performances Links to Rózsa mp3 Audio clips.
Sheet music Printed and Biographical